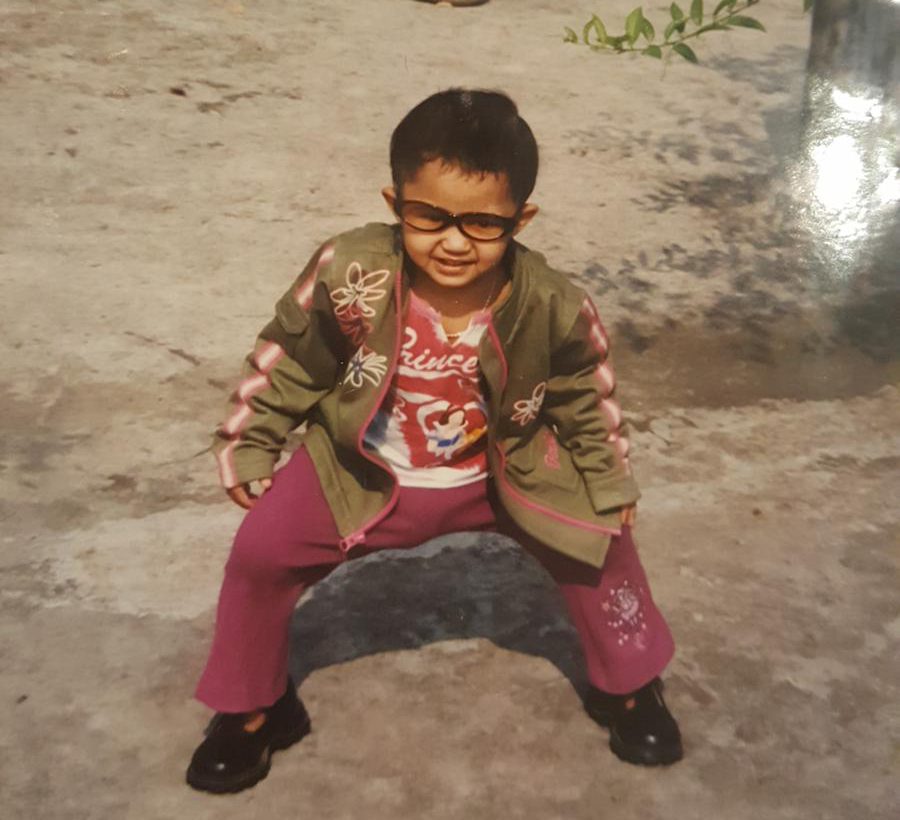 My sweet darling Safa – on this day 19 years ago, 12 October 2001, Allah sent you in our life as a special gift, like your other two sisters. I still remember the moment when the nurse brought you and gave you to your late grandmother. The angelic face I saw at that time is still evident in a 19-year-old university student – a blessing that Allah chose to send to your ammu and me.
My talented girl Safa – you are fortunate to be a granddaughter of two illustrious grandfathers, both renowned internationally for their achievements and services in their respective fields. Your paternal grandfather (dada) spent his whole life in the service of Allah's Deen and is still remembered and revered by millions of people around the world. Your maternal grandfather (nana) has made groundbreaking contributions as a Muslim social scientist with his academic achievements and brilliant teaching career. It is no wonder that Allah blessed all three of my daughters with immense talent, but it is your own hard work, dedication, and lots of prayers from your parents and grandparents that have taken you where you are today. You are now studying in one of the best universities in the world, and befittingly in your grandfather's subject. As parents, we couldn't have asked anything more.
My adorable Safa – I can't believe how quickly you grew up. From an adorable little girl who spread happiness to everyone with her cheeky smiles, to a beautiful young woman full of potentials to serve humanity in the near future. However, with every little success along the way, I tried to instill an important attribute in your personality, which is humility. You have learned and appreciated that all your successes so far have come due to the blessings of Allah and the prayers of your parents. To your credit, you tried your best in everything you did and Allah did the rest. As long as you believe this with conviction and stay humble, you will see how Allah rewards you with His bounties.
My pride Safa – my heart feels content when I see that you are proud of your identity – a British Bangladeshi Muslim. When I wrote my academic article on your loss of Bangla after coming to the UK, I wasn't sure whether you would ever get it back. I am glad to witness your efforts to know your heritage language and culture. You wrote a powerful poem during the lockdown that demonstrated how important your Bangladeshi identity is and you never shy away in proudly expressing your Bangladeshi roots. More importantly, your Muslim identity is an integral part of your existence. Your commitment to equality, justice, fairness, the environment, and the welfare of humanity gives me immense joy as a father. May Allah keep these feelings intact inside you as long as you live.
We miss you Safa – when we left you at your university and was driving back home, my heart was filled with emptiness. Your ammu found in you her best friend and was crying like a baby in the car. Your little sister Hana wouldn't let you go when we were bidding you goodbye. I tried my best to keep my cool while driving, but so many memories of you were wandering in my mind that it was difficult not to be sad. Yet, we have accepted it as a reality, and thanks to the blessing of technology, we are able to see you and talk to you several times a day. However, when we see your empty room next to ours, we miss you a lot.
My grown-up girl Safa – you are now an independent woman living alone with your friends without the supervision of your parents who were always next to you for almost 19 years to help and guide you to the right path. This is the biggest test in your life. I want to remind you what I told you the night before you left home – something my father had told me before I left for India to study, "Remember that your parents will not be there to see you, but Allah is always there – He is Omnipresent." Do not forget for a second that success in this life has no meaning if success in the hereafter is not given the utmost priority. Remember another thing I told you that night, "If you seek success in the hereafter and strive in this world – you will get both the worlds, but if you prioritise this world over the life after death – you will lose them both. Our duas for you are conditional – that you seek Allah's pleasure in whatever you do.
My advice for you Safa – I would like to end this open letter to you with some important pieces of advice that Luqman (Peace be on him) gave to his son in Sura Luqman. Please remember them in every moment of your life:
Do not commit shirk, even in the smallest possible way.
Be kind and dutiful to your parents until they die, and pray for them with the dua Allah taught you after their death.
Always remember that all the might and power belong to Allah and nobody else. Allah's knowledge is perfect and anything that happens or will happen in this world is already known by Allah.
Offer your prayers on time and as effectively as possible. Whatever happens in your life, never forget to pray the five times salah.
Always try to enjoin people towards good deeds and forbid them from all that is evil.
When difficulties come, try to face them with patience, as Allah is always with those who are patient.
Do not be arrogant at any point in your life. Remember that the day one becomes arrogant, their downfall begins. Always lower your voice when talking, i.e., talk with softness, not arrogance.
I love you Safa – on your 19th birthday, I want to remind you how much I love you and how much you mean to me. I pray for you all the time that Allah keeps you safe and well, gives you a long, healthy and successful life, helps you in achieving academic success, gives you the ability to contribute to the welfare of humanity, and most importantly, helps you to be steadfast in your faith.
Happy Birthday sweetheart – Enjoy this day!