[A slightly different version of this article was published in the book, Reflections on Science of Language: In Honour of Professor Ali. R. Fatihi, edited by Aejaz Mohammad Sheikh and Ranjit Singh Rangila, Educational Publishing House, New Delhi, India, 2020]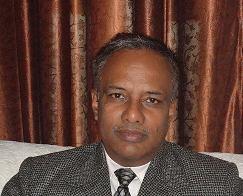 On World Teachers' Day I thought of sharing my thoughts on my idol, teacher and mentor Professor Fatihi.
I feel very lucky to have had some great teachers who helped me 'fall in love' with Linguistics – a discipline that has become an integral part of my identity for the last 30 years. I have a deep respect for all my teachers, but Professor Fatihi was special, without whose encouragement, support, and blessings, I would never be where I am today. Since the first day I met him, I found him as a guide, a mentor, and a fatherly figure who made an immense contribution towards my development and success as an academic.
I still vividly remember the day I first met Professor Fatihi. On the very first day of my second-year undergraduate study, I came to know that a new teacher had joined the department, so I thought of meeting him personally before attending his class. I went to see him at his office, which was one of the smallest rooms for the teaching staff in the Linguistics department corridor of Aligarh Muslim University. During the first meeting, I sensed a calm and composed character inside him that made me feel reassured that I would be in good hands. Thus began a decade-long teacher-student relationship that physically ended through the awarding of my PhD degree ten years later, but my deep respect towards him remains as strong as ever until this day. We may have had our last meeting 18 years ago on the day of my Ph.D. defense, but we never stopped communicating with each other.
Although he helped me a lot during my undergraduate study, my personal relationship with him went to another level when I started my postgraduate degree. I started visiting him at his residence. I had thought that his affection towards me was due to my academic performances, but I was wrong. I found a number of senior students irrespective of their academic achievements visiting him regularly. His house was like an open door to students where anyone was welcome. Not a single evening would pass without any student in his house. It was unbelievable how a teacher could have so much extra time for his students. I also had tremendous respect for his wife who would always tirelessly bring tea and snacks to every visitor at their house. She was a Ph.D. herself but was a housewife at that time as she had small children. She had no complaint that her husband's students were taking up so much of their family time.
Most of the discussions in his house was academic. His personality made sure that no student could cross the boundary. He would never speak about teacher politics. He would never allow any backbiting. I used to see him with my notes and he would even help me understand topics that he was not teaching us. My respect towards him became sky-high in one such visit. He was helping a PhD research scholar with some fundamental aspects of his research. I was surprised at this as the research student was doing PhD under the supervision of a senior professor who we all knew was jealous of Professor Fatihi. The research student later told me that he was not getting support from his supervisor, so Professor Fatihi helped him with some crucial points. When I asked him that the full credit would go to someone who had never been very nice to him, he answered with a smile, "I can't refuse when a student needs help. I don't do these for credit". This is why I love him so much. His honesty, sincerity, passion towards his profession, dedication for the department, and deep affection for students were unparalleled. He was loved by every student in the department.
Besides being a wonderful human being, Professor Fatihi was a fantastic teacher and a researcher par excellence. He could explain things so clearly that students felt confident in the subject. His research expertise was at a very high level. His publication list is very rich, and a number of groundbreaking PhDs were done under his supervision. My own PhD was the first one on advertising in Bangladesh – let alone the language of advertising. As a well-reputed scholar in his field, he had to be involved in several important government projects from time to time. He was also a Visiting Professor at Cornell University for a few years, which is one of the top universities in the world.
When I decided to do Ph.D. at AMU, there was no doubt who I would like to have as my supervisor. When I finished my M.A., Professor Fatihi already had five Ph.D students under him – the maximum possible as a Reader at that time. I waited two years for a vacancy and it was Fatihi sir himself who informed me two years later that he could take me as his supervisee from September 1997. The rest is history. All I can say is that if you want to do a Ph.D, there cannot be a better supervisor. This is a unique example of how far a supervisor can go to help their supervisees. Academic help is expected and he helped me immensely in that, but what he did beyond that is something I will never forget. I will just give one example. I had a visa issue for which I just had two days to complete all the procedures of submitting my thesis. While I was busy getting my quantitative chapter typed as it took much longer than expected due to a power cut, Professor Fatihi made two crucial calls to facilitate my submission procedure. He asked one of his students who had just submitted his thesis to take me to all the departments that needed to sign off to enable me to submit my thesis. He also asked a leading printing and binding company in Aligarh to keep someone free so that my document could be formatted and bound in time. This is what Professor Fatihi is all about – going to any length possible to support his students.
By the grace of Allah, I have had a successful teaching career both in Bangladesh and in the UK. I have always had great rapport with my students and have been loved and respected by them. I have simply tried to copy Fatihi sir in stretching my helping hands towards them in their hours of need. As far as research is concerned, his appetite for getting into new areas of research with very few previous works always inspired me, and I have done exactly that, beginning from my Ph.D topic to my latest book. Therefore, I can say without any hesitation that whatever I have achieved as an academic to this date, I owe it to Professor Fatihi.
All good things have an end, and so has Professor Fatihi's illustrious career. He might not be wandering around the Linguistics department corridor of AMU any more, but his legacy will continue. Anyone who has been in touch with him will not forget him. Anyone who has been taught by him will remember his contribution. And anyone like me, who has been fortunate enough to see him from so close, will pass on the good practice they have inherited from him to the next generation of academics.
Professor Fatihi, is my idol and I love and respect him from the bottom of my heart. On the occasion of World Teacher's Day, I wish him a long, healthy, and happy life and salvation in the life hereafter. May Allah's endless mercy shower upon him all the time – Ameen!