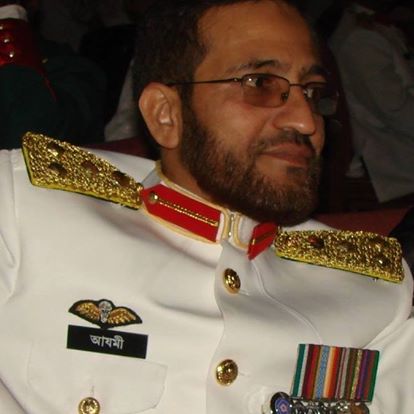 Today, 22nd August marks exactly four years since my brother, former Brigadier General of Bangladesh Army Abdullahil Amaan Azmi was abducted from our house by the Bangladesh security forces. Despite many appeals from the family and international human rights organisations, and widespread coverage in the international media, his whereabouts remain unknown. Our family is devastated, but we have no solution to this problem. We have exhausted all our efforts and are completely at the mercy of the Bangladesh authorities who are giving deaf ears to the concerns of our family and many other families whose loved ones have been abducted by the government forces.
On the evening of 22 August 2016, 30 armed, civilian-clothed individuals, claiming to be from the Detective Branch of the Bangladesh Police, stormed into our family residence in Moghbazar, Dhaka, rounded up all the staff in the building, severely beat our residential caretaker, threatened and intimidated my brother's wife and our mother, searched every apartment of the building, and eventually took him blindfolded after a three-hour operation. Since then, the Bangladesh authorities have refused to publicly acknowledge his abduction and even denied registering him as a missing person. Our family is helpless and we have no scope to know his whereabouts. For the last four years, we have been spending every day with the hope that he will return one day. However, the Bangladesh authorities are in complete denial of this matter, neither are they interested to even pretend to search for my brother and many more victims of enforced disappearances.
Concerns of enforced disappearances had been raised by UN expert group, Amnesty International, and Human Rights Watch, and reports of my brother's abduction were published and broadcasted in international media outlets like the BBC, and the Daily Mail in the UK, renowned American news outlets New York Times, 'Foreign Policy', and Forbes, as well as international media institutions like, Al Jazeera, Al-Jazeera TV English, The Wire, IB Times, Scroll.in, Turkish news agency Anadolu, TRT World etc. A rare Bangladeshi news media report was in the Dhaka Tribune.
My brother was not a politician, and was never charged with any illegal activity whatsoever. He lived in our family home in Dhaka with our elderly mother, his wife and the youngest two of his five children. He was our only brother who could take care of our ailing mother as the remaining five of us live in the UK and are not allowed to visit Bangladesh. His youngest two children were less than four years old when he was abducted. Deeply traumatized and fearful for the safety of Azmi, our family filed a criminal complaint following the abduction but the authorities failed to acknowledge the arrest/abduction or the whereabouts of Azmi.
Why was he abducted? This is a question that can have only one answer. It may sound strange to non-Bangladeshis, but if you are a Bangladeshi, it should come as no surprise. The crime of Amaan Azmi is that he happens to be a son of our late father Professor Ghulam Azam, the former President of Bangladesh Jamaat-e-Islami, who died in custody six years ago after being convicted by a controversial and highly disputed verdict following a political show trial that has been described as a flagrant denial of justice, for his alleged role in Bangladesh's War of Independence in 1971. This article is not about our father, so I will not go into the detail of his trial process, which was condemned by every credible international human rights organisations and prominent international lawyers for failing to maintain the minimum standard of fair trial and due process.
This is not the first time Azmi became a victim of injustice by the Government of Bangladesh for being Ghulam Azam's son. He had been a decorated army officer winning many accolades during his 30 years of honest and professional service to his beloved homeland, and many had known him to be one of the most professional officers the Bangladesh Army had ever produced. He had also served with distinction in UN peacekeeping missions in several conflict zones. Yet, in June 2009, a few months after Sheikh Hasina came to power, my brother was called to the headquarters of the Bangladesh Army and was handed a letter stating that he had been dismissed from the Army. No reason was given as to why he had been sacked, which denied him from obtaining any pension or other retirement benefits for his selfless service for many years.
Leaving the profession he loved so much in such a humiliating fashion, and being unjustly denied of financial benefits that any army officer take for granted, my brother dedicated his entire time looking after our elderly parents. Azmi tried to establish an educational institution as he had always dreamt of serving in the education of children, but the current Government's attitude led to the dream remaining unfulfilled. He maintained his steadfastness in serving our parents and played a pivotal role in managing everything on behalf of all of us after the death of our father in 2014 as none of us could attend the funeral. After that, until he was abducted, he gave his everything to look after our ailing mother.
Never during his time in the Army or even after he was dismissed was he ever involved in anything that could concern the law enforcement agencies. He never joined politics despite a great deal of media speculation that he would join our father's party and engage in active politics. He remained virtually under house arrest for a long time as he had no employment and was under constant state surveillance. As a conscientious citizen and a patriotic citizen of Bangladesh, the only thing he did was remaining active in social media writing about the current human rights situation in Bangladesh. No one could ever find any of his social media writings as provocative or overtly political.
Yet, without any logical reason, and without any political or other provocation, the Bangladesh authorities decided to stoop to such a low as to forcefully abduct him, hold him arbitrarily and without access to a lawyer or his family, and then pretend that nothing had happened, acting with wilful blindness. If there were any credible allegations against him, they should have produced him before a court and let the law of the country take its course. Why did they decide to enforce his disappearance in such a brutal fashion? Only because he is someone's son? Can that be a reason to deny a man from his basic and most fundamental human rights?
The reason Bangladesh authorities are able to continue carrying out injustices of such magnitude is the complete impunity in which they are ruling the country. There is virtually no opposition in the country; the media is almost entirely run and controlled by the government; the civil service is completely quiet, particularly on enforced disappearances; and the international community remain unashamedly unconcerned.
My mother waited for three years to see his beloved son but breathed her last being deprived of the basic right to be buried by any of her sons. How many mothers are there in the world who have six sons, but die without seeing any of them? My brother's five children are waiting to see the smile of their beloved father, but will their hopes be ever fulfilled? Four years on, our family and all those whose loved ones have been abducted by the authorities, are crying for justice. Unfortunately, no one and absolutely no one, nationally and internationally are there to hear their cries.